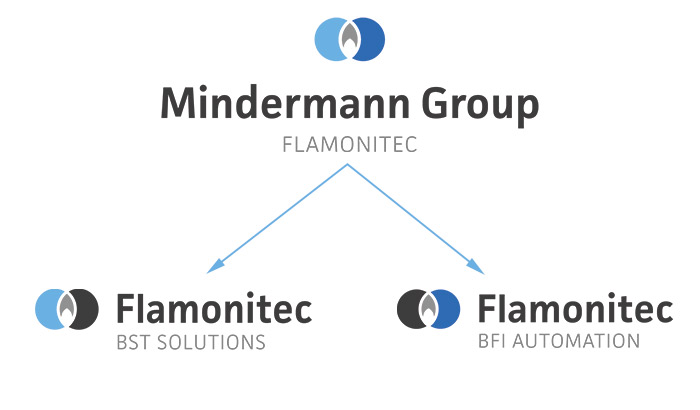 "Flamonitec": Joint brand name for BST Solutions and BFI Automation
BST Solutions and BFI Automation to operate as "Flamonitec" in future
Brand name to underline overall competence
First plans for the new year
Two companies, one common brand name: The established flame monitoring specialists BFI Automation and BST Solutions are now cooperating under the new brand name "Flamonitec". Both companies, which are part of the Mindermann Group, want to emphasise their cooperation more clearly with the new brand name. The aim is to focus on the overall competence and the world's largest supply portfolio for flame monitoring systems. BFI Automation is primarily active as a project partner in flame monitoring for industrial plant construction, while BST Solutions primarily develops customised solutions for original equipment manufacturers in heating and combustion technology.
"In order to be able to continue to grow, especially outside Europe, we are bundling the activities of BFI Automation Mindermann GmbH and BST Solutions GmbH under the Flamonitec brand umbrella," explains Eberhard Röllecke, Managing Director at BST Solutions. Flamonitec is a made-up word made up of the first syllables of English-language expressions: Flame, Monitoring and Technology. Flame, monitoring and technology – all key terms in flame monitoring. "Our new brand name makes it clear that we offer the right device or system for all requirements, from heating technology to large power plants and from small industrial furnaces to large gas turbines."
What changes for customers?
The legal forms of both companies remain unchanged, so customers do not need to pay attention to anything else. They primarily benefit from the fact that they now have only one contact person. "We want to offer our customers maximum convenience," says Röllecke. The new joint website is www.flamonitec.com, and the familiar product portfolio of BFI Automation and BST Solutions can be found at www.flamonitec-bst.com and www.flamonitec-bfi.com respectively.
Outlook for 2022
Apart from the new brand name, the Mindermann Group is also on the move. Although, like many other industries, they will have to deal with supply bottlenecks in 2022 due to corona, tests with hydrogen-based products are already scheduled for the first quarter of this year. In addition, established products will be evaluated and optimised if necessary. "We know from our many years of experience that technological progress in flame monitoring is crucial," explains Röllecke. That is why continuous further and new product development is obligatory for BST Solutions and BFI Automation. "This will also enable us to successfully meet the new challenges that the use of hydrogen and synthetic liquid fuels will bring."
https://flamonitec-bst.com/wp-content/uploads/gemeinsamer_name-1.jpg
410
700
Sofie Dahlhoff
https://flamonitec-bst.com/wp-content/uploads/bfi_logo_neu.svg
Sofie Dahlhoff
2022-01-17 10:53:21
2022-06-02 09:22:30
"Flamonitec": Joint brand name for BST Solutions and BFI Automation